Tukwila Pool Mako Sharks
Summer Splash League
Our Mako Sharks Swim Club has the awesome opportunity to participate in a summer swim league. Summer swim league is an opportunity for friends to get together to compete & improve their swimming abilities with other swim clubs while also having lots of fun. The summer swim league is an opportunity available to all swimmers in Super Strokes or higher. 
| Name | Level | Days | Time |
| --- | --- | --- | --- |
| | | | |
| | Intermediate (Pre-Competition) | | |
| | | | |
I've always loved the water ever since I was young, which has led me to pursuing work in aquatics such as lifeguarding and becoming a Water Safety Instructor. I also swam for four years on Foster High School's girls swim team and had the honor of being their captain for two!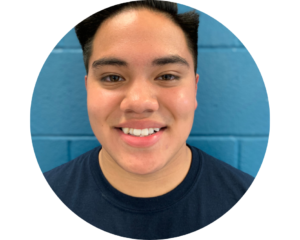 I was graciously given the opportunity to participate in the Tukwila Pool Swimming Lesson Program as a child and was fortunate enough to pursue my love for aquatics for years after. As a coach, lifeguard, and swim instructor, I am now blessed to help guide the leaders and athletes of tomorrow as the Mako Sharks Swim Club coach. 
Current Swimmers:
Swimmers who are currently registered in our swim lesson or swim club programs are eligible to register for the level equivalent of their current class. 
Super Strokes = Shortfin Mako Sharks
Pre-Competition = Longfin Mako Sharks
Swim Club = Mako Sharks (Advanced)
New Swimmer Tryout Requirements: 
Shortfin Mako Sharks 
Swim 25-yard freestyle (With side breathing)
Swim 25-yard backstroke
Tread water for 2 minutes
Longfin Mako Sharks 
Swim 50-yard freestyle (Under 75 seconds)
Swim 50-yard backstroke
Swim 25-yard breaststroke
Swim 25-yard butterfly
Tread water for 2 minutes
Mako Sharks 
Swim 100-yard freestyle 
Swim 100-yard backstroke
Swim 50-yard breaststroke
Swim 25-yard butterfly
Email makosharks@tukwilapool.org or call 206-267-2350 to set up your tryout for Swim Club.  
| Time | Resident | Non-Resident |
| --- | --- | --- |
| | | |
Frequently Asked Questions